Territory is an interesting concept. It can mean many things but in this post it means where my family settled.
The Yeakley's came from Pennsylvania and settled in Tennessee. Eventually, some of them migrated to Texas where they put down roots.
The Rhea's settled in Tennessee and put down roots.
The Yeakley's lived in Rheatown, Greene County,
Tennessee
and in Rhea County.
The Rhea's never lived in Rheatown or Greene County or Rhea County but settled in Hancock County.
So how is it my portion of the Rhea family never lived in area apparently settled by John Rhea, who might or might not have been the first Rhea in Tennessee and credited with the founding of Rhea County and Rheatown? We still can't prove our connection to John Rhea either but I know my family just didn't spring out of the soil in Hancock County.
So now we look at Missouri. My grandmother on the Rhea side, Mellie (Farris) Rhea, was born in Eldon, MO, in Miller County. She married my grandfather in Carthage, MO, in Jasper County and they lived there until they moved to Montana.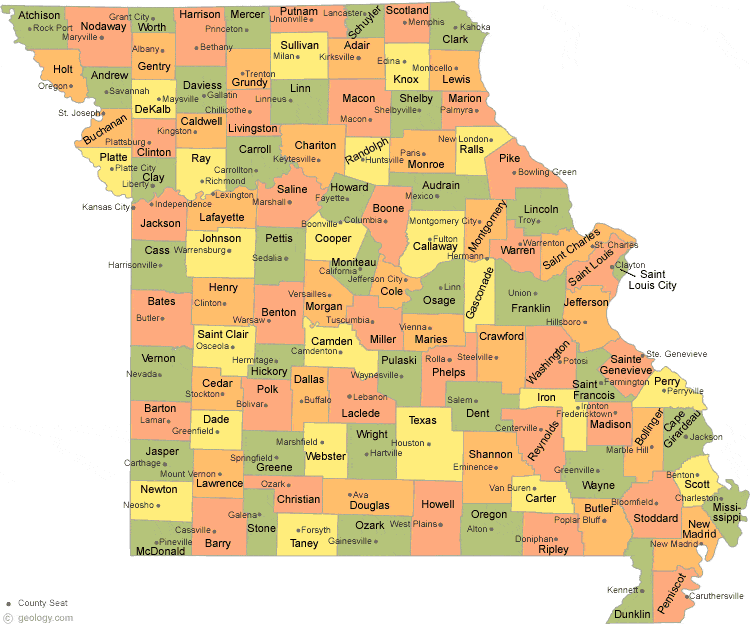 http://geology.com/county-map/missouri.shtml
A portion of the Yeakley's landed in Greene County, Missouri, in the Springfield area.
The Rhea's and Yeakley's lived in Tennessee and Missouri. In 1900, there were 45 states. So how is it that the two very separate and distinct families all ended up in the same territory? There were 43 other states to choose from.